"The Great Escape Suit - Break loose, make a mad dash, run free, get away fast - unless you'd like to be caught. 
"Vintage 1960's luxury swimwear, Cole of California Original. Circa 1966 Great Escape Scandal Suit. Scandalous one-shoulder, one piece swimsuit with naughty, nude mesh at back and sides. The Scandal Suit Collection was designed by famous Hollywood costume designer Margit Fellegi.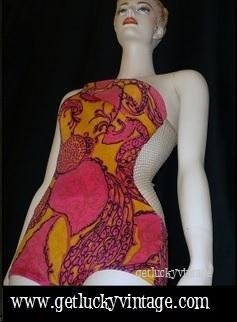 The low-dip back and cutaway sides create curves you didn't know you had. Soft cup, lace lined bra provides a full bust appearance.  
Dynamic psychedelic-influenced print of the period in mustard yellow with subtle metallic gold print overlay that softens the vibrant Florida Pink and black paisley print. The flesh tone, elasticized mesh has a strip of elastic at the top edge which has a gentle stretch quality that is non-binding.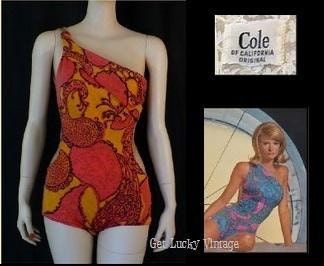 Advertisements for the Scandal Suit Collection circulated around the question "Isn't it time somebody created an absolutely wild scandal for nice girls?" And we here at Get Lucky Vintage answer with a resounding "YES"!